Location: Warrington, Cheshire

Joined: Jul 2004

Posts: 3,963
Updated 27th December 05
Dizzy
(
See here
)
Still waiting.....

Tel: 01900 61669
A Foster home still urgently needed for Dizzy. Animal Concern Cumbria - west branch will cover all Dizzy's medical costs whilst he is being fostered.

01900 61669
Gypsey
Lovely Brindle coloured Staffordshire Bull Terrier girl who is a cuddlechops. Very soft natured and behaves well to our simple commands. This little girl is still being assessed, and as she has come from the pound, we have to presume that she is not ok with cats. For full information, please contact Linda directly.
01900 61669
Sasha
She is quite small in size (about the size of a Border collie bitch). She has to wear a muzzle due to her obsession for eating stones and has had an operation to remove them from her stomach in the past. Sasha would make a perfect family companion and really deserves a very good home. She has been in kennels for such a long time as she tends to hide when visitors come. Sasha has been spayed. If you think you are eligable to provide a home for Sasha, please call Linda for an interview. Sasha is still waiting despite recent newspaper coverage.

01900 61669
Fizz
She is approximately 5 years old and has special dietry needs due to a life long medical condition which is treated through a strict diet regime of chappie & buscuits. Fizz has been spayed, vaccinated, wormed and flea treated. Fizz is a very affectionate little lady who would benefit a home to herself as she doesn't get along with bitches too well. Fizz is Ok with older children, but has not been cat tested. If you think you are able to offer Fizz a perfect home, please telephone Linda
01900 61669
Ricky
He is a 6 and half year old Rottweiler cross. He has a lovely friendly temperament and is ok with older children. Ricky is a playful lad who is on the small side for a Rottweiler, but what he lacks in size, he makes up for in personality as he is a cuddle monster. His favourite toy is a squeeky boot and he is not destructive when left. If you think you can offer Ricky a loving and forever home.
Telephone Linda 01900 61669 for further information
Sally
Whippet Cross. She is tiny approximately the same size as a whippet bitch. Such a cutie who is seriously under weight at the moment. Sally is still being assessed, but I can tell you that she travels ok in the car, but is very timid. She may also be destructive in the home and I doubt she is house trained.
Sally is a lovely little girl who loves her cuddles and fusses. She does get rather excited and can be quite vocal, but settles when left. She wouldn't be ok when left alone for long periods of time.
01900 61669
Susie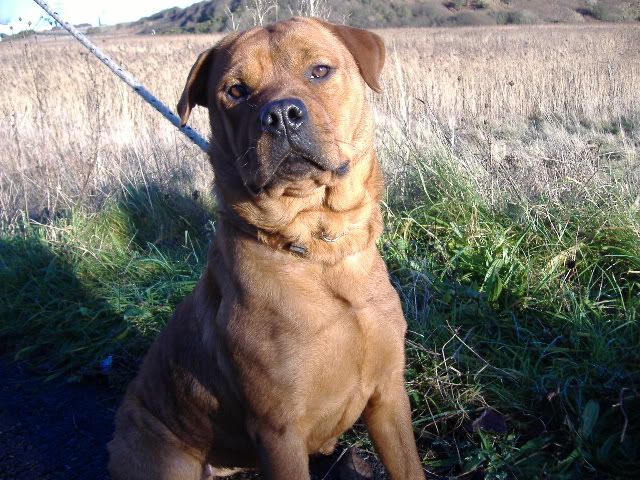 (photograph courtesy of Ozzysmom)
Susie, we think is a Bull Mastiff cross (approx 3 years old). She is adorable and I found her to be an absolute pleasure to walk on lead. She is however car sick. Susie is ok with children above 7 years old and is ok with other dogs. She has not been cat tested and so we presume that she would not be able to live with cats.
01900 61669
Better News

Cougar - Adopted by one of our own volunteers and now sharing a home with 3 other GSDs of which one is also an ex-ACC dog

He is a 6 year old German Shepherd Dog (long haired)
Patrick - reserved

(photograph courtesy of Ozzysmom)
He is a young Border Collie. Approximately 1-18 months old who was tied to the gate (in this weather

) He has a strong natural instinct for herding and would make an excellent Working dog. Lovely gentle lad who loves his fusses but has a strong drive and would need plenty of stimulation each day.
Bailey - reserved

He is a Staffordshire Bull Terrier Cross who is just 10 months old. After an initial assessment, he would not be suitable in a home where left for quite a while since he is destructive. He needs a home which will continue with his training.